1/27/2005
I was online tonight, looking for some examples of good travel blogs, to get me in the mood of doing my own when I'm in Panama. I endedup on
Vagabonding.com
and a
travelogue entry concerning Laos
caught my eye. I thought of Glyn and Kiran, who were meeting up again in Thailand for a day or so. Glyn had already visited Laos, and Kiran is heading there now. Most of the information in this entry was already know to me, but I thought people would be interested to know the following facts during the Vietnam War.
The Secret War
The war in Laos was so secret that the country's name was never included in any of the original US records; it was referred to as "the other theater".

Neutral Laos was off limits according to the Geneva agreement. As a workaround, the US sent CIA agents and soldiers in under the guise of civilians; the air raid missions were fought by men in cutoff shorts and cowboy hats.

The Vietnamese didn't bother to disguise their soldiers.



Staggering Statistics
The USA conducted over 10,000 missions during the nine-year war and dropped over 1,000,000 bombs. This equated to one ton of explosives dropped for every man, woman, and child living in Laos at the time.

Costly Devastation
The secret war in Laos remains the most costly operation ever conducted by the USA. US taxpayers funded the nine-year war at a cost of $2 million per day!
Posted at 2:19:45 am by
Permalink
1/26/2005
Jun Ji-hun VS Sandy Bullock
Sandra Bullock and Keanu Reeves, are teaming up again for a romance movie.
Il Mare
is the remake of a Korean movie which has been said to be a cross between "You've Got Mail" and "Frequency". What I'd
really
like to see is a movie that's a cross between Gladiator, Chicago, and Dogdeball. Now
THAT
would be a movie!
| | |
| --- | --- |
| | VS |
Posted at 1:51:45 pm by
Permalink
What have I been up to lately?
Well, it's been 2½ days of just hanging out. I haven't accoplished too much, but here's what I
have
done.
Slept in every day.
Watched movies on... (gasp!) TV! I've see Gattaca and The Caveman's Valentine, coincidentally both produced by Danny DeVito.
Downloaded The Motorcycle Diaries, but can't watch that because I don't have the subtitles. Doh!
I'll watch Finding Neverland and Million Dollar Baby tonight.
Trying to eat only the food in my cupboard. Therefore, my diet has consisted of pickles, ramen, pasta with 4 cheese sauce, Jelly Bellys, eggs, crackers and hot chocolate.
Did laundry and packed away my clothes. I need to pick up my dry cleaning today, too.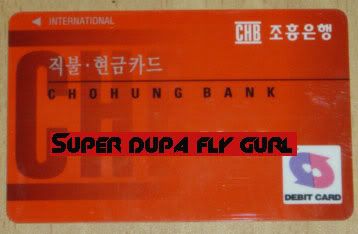 Went and got a new international bank card from Chohung Bank. As you can see, I got it personalized.
| | |
| --- | --- |
| Sold my cell phone to Reardon. Hahaha, sucka! Little does he know that he has to hold down the number 7 key to be able to hear people when they talk. | Bought my mom some metal shopsticks, per her request. 1000 won for a pair, NICE-UUH! |
Saw this downtown...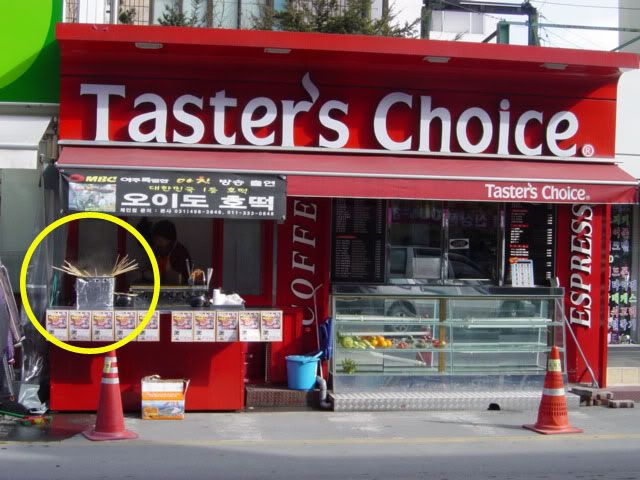 "I'd like a large, double shot vanilla latte, with a... muffin? No. A cookie? Nah. Oh, I got it. I'd like some boiled fish paste on a stick, please!"
Posted at 1:32:00 pm by
Permalink
1/24/2005
Taking pictures of my food
[Engadget] The Olympus wants you to take pictures of your food with the Stylus 500
The new five megapixel Olympus Stylus 500 digital camera has all sorts of different picture modes, you know like portrait, landscape, sports, but it also has one other setting, "Cuisine," that's designed to cash in on what is supposed to be the big new trend in Tokyo right now: taking a picture of your restaurant meal before you get down to business.
Who know I was part of the Tokyo trend? This is what I ate today, dol sot bibimbap.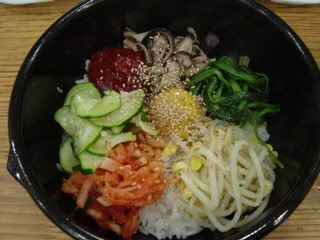 A couple days ago, I had coffee and this cheesecake dish with a Korean friend.
Posted at 7:39:19 pm by
Permalink
1/22/2005
My last day working was on Thursday, but I'm still here in Kangneung for another week. Ras will finish teaching at his English camp at the end of this month. I'll meet him in Seoul next Saturday, and then we fly out Monday morning, January 31st. The ticket is from Seoul --> Tokyo --> Dallas --> Miami --> Panama City, Panama... phew! This coming next week, I've got a lot of things to do.
Pack
Send off my taxes
Finally read the manual on my Sony DSC-9 camera
Backpup my computer files on CD and send them separately back to the States
Write emails and clean up my hotmail "inbox" which has 7 pages!
Update my website (separate from the blog)
Update my photo album (which will inlcude all my pictures from last year)
Archive all my blog entries from last year (most likely won't be happening)
By the way, if anyone wants to teach English in Korea... specifically at my school, email me. My boss is still looking for a replacement to start in March. I have nothing but great things to say aboout my school, and would stay if I hadn't already been in Korea for 3 years. I'm getting my last paycheck, bonus, and airplane ticket with no problem. Anyway, email me with any questions.
Posted at 10:36:46 am by
Permalink
1/20/2005
I'm officially unemployed
Today was my last day of work. Has it really hit me yet? Not really, because I'm still here in Kangneung, still here in Korea. Whenever I get ready to travel, people will always ask, "Are you excited yet?" I think the answer they want to hear is "Yes, of course I am!" In reality, the excitement starts to build when I'm at the airport, holding my ticket. It's not until I'm physically there that I feel the anticipation of the airplane taking off. After boarding, I put my things away and head to the magazine rack. I get my pick, because nobody thinks to do that right away. Slowly the airplane positions itself on the runway, waiting for clearance to take off. The plane then jerks slightly and begins to gain speed. About 10 or 15 seconds into the takeoff, the airplane gains so much speed that it makes me wonder how mankind achieved the ability to move such a heavy object so fast from a standstill position. At that exact moment when I don't feel the ground underneath me...
THAT'S WHEN I'M EXCITED!
| | |
| --- | --- |
| My glamorous desk. | The view from my classroom. The sun starts to set on my last day. |
| After work, I went to dinner with my boss and the other 4 teachers. This is the BEFORE plate of "naeng myeon" (cold noodles). | The AFTER picture.... not so pretty. |
| We also ate "bosaam". A little fatty, but good. | Afterwards, we went for coffee at "The Antique Cafe" near Ojukheon. |
| There was a drama that was filmed there, so of course there are photos and autographs of the actors. Or, as I like to call them, "famous people I don't know." | These are two of the teachers at my school. |
| I had a mocha coffee, which was pretty good. | My boss had rosemary tea, and you can see the plant behind the table. |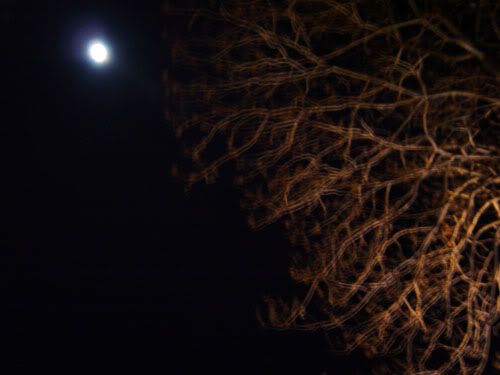 This is one of the reasons why I never moved to Seoul in the 3 years I've been here. Outside the cafe, the moon was so bright and you could see stars twinkling in the night sky.
Posted at 11:19:16 pm by
Permalink
1/17/2005
It's hard to believe, but this is my last week of work. I officially will finish two straight years in Korea, this Thursday, January 20th. People have been asking me if I'm excited to leave. I'm looking forward to leaving, but not because I don't like Korea. My time here has been profitable, relaxing, and fun. What I'm really excited about, is to see and be somewhere new... and warm.
By the time I walked home tonight, some of the snow from
Saturday night
had started to melt. Still, the majority of the heavy snowfall was still there. These are some pictures I snapped along my route home.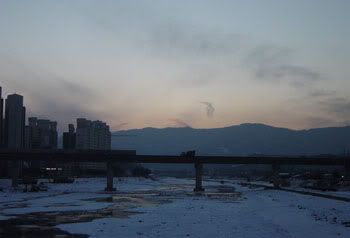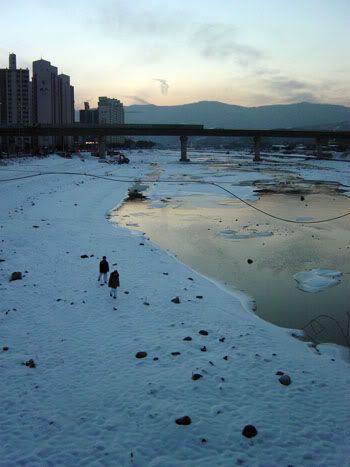 Some boys walking along the riverbank, in my neighborhood of Naegok-dong.
| | |
| --- | --- |
| This is the river, looking down from the bridge. | What is THIS?!? A) A snowman with titties. Olive Oyl boobies must be hot this season. B) A snowman with stumpy arms. "Stumpy the Snowman, was a jolly happy...." Or C) The head of the Pillsbury Dough Boy. YOU be the judge! |
Posted at 11:16:13 pm by
Permalink
1/16/2005
I haven't been out drinking for awhile, and went to Bumpin' last night. I met Hyun-ju there, who's a Korean friend of mine that wanted to see me before she left for vacation on Monday. I think she's the most well travelled Korean person I know, who really embraces other cultures. She met her current boyfriend in Vienna during her last trip, and I met him last night.

Hyun-ju and her boyfriend. He had just gotten a hair cut that day. Do you like it? She didn't.

Hyun-ju and I. The pose? I don't know where it's from, but all the kids are doing it!



I didn't realize they were offering pasta that night at Bumpin, but it was a nice surprise.


Around midnight, it started snowing. The flakes were HUGE!

Rory decideds to relieve himself amidst the beautiful snow.

"Oh yeah! This feels gooood!"

He laughs as he finds out that I'm taking a picture of him peeing. The trenchcoat hid his one-eyed weasel well.. .I didn't see anything.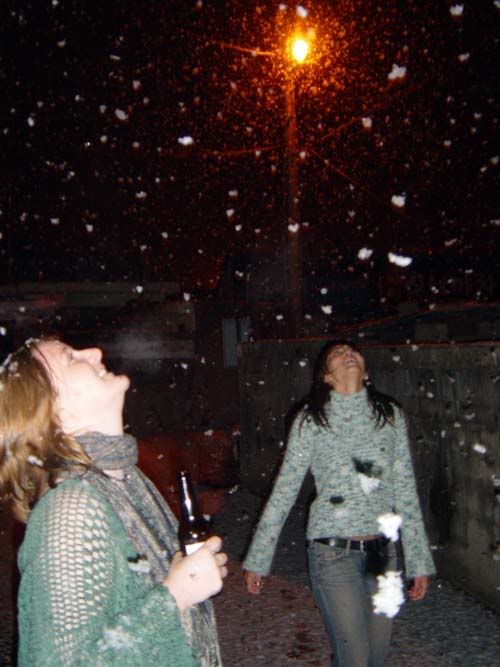 The snowflakes were so huge that we came outside to look up at the sky. Helen is also enjoying her beer outside.
Updated:
Rory Runs Amok
with a new digital camera! Check out more pictures from this night at
Rory's blog
.
Posted at 11:08:11 pm by
Permalink
1/14/2005
I was reading an article online about what makes a good blog. One of the things it said, is that you need to create new entries about as often as you eat. (rolling my eyes...) If that were the case, it would look like I eat once a day, or sometimes every other day. Just the other day, I spent an hour doing an entry about some new bands and music that I was listening to, and wouldn't you know it, my computer crashed. Once the computer was back up again, I didn't have the motivation to type it again. Like eating a whole cake by yourself, you know it's not going to be as good the second time around.
Posted at 4:09:50 pm by
Permalink
1/12/2005
I like the drawings from the
Toothpaste for Dinner
website, even though some of it is hard to read. In addition to drawing, the author just release a CD and is selling some of his drawing on t-shirts. Go to the
Misc. page
to find out other things he's done, include a a
Lego Porn
site. Really!
"If I had a dollar for every time I had sixty cents, I would be Canada"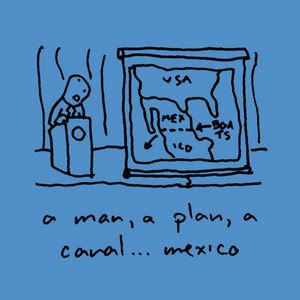 "A man, a plan, a canal... Mexico"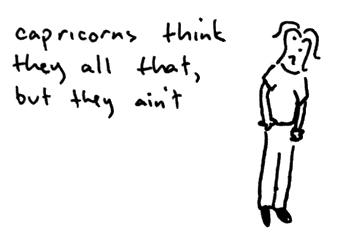 Dec. 21-Jan 19. Oh man!! They found me out!


June 21-July 22.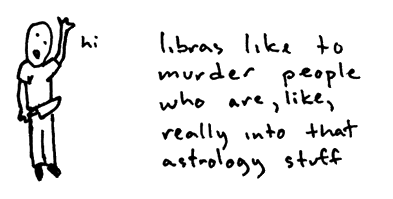 Sept 23-Oct 22.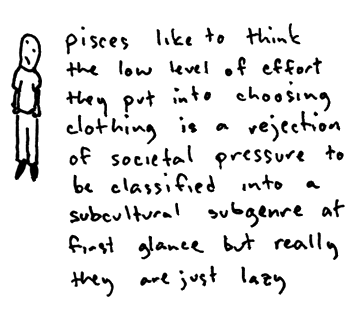 Feb 19-March 20.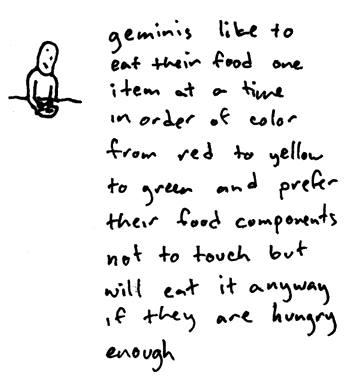 May 21-June 20. I can relate. I always eat hot food first, then cold.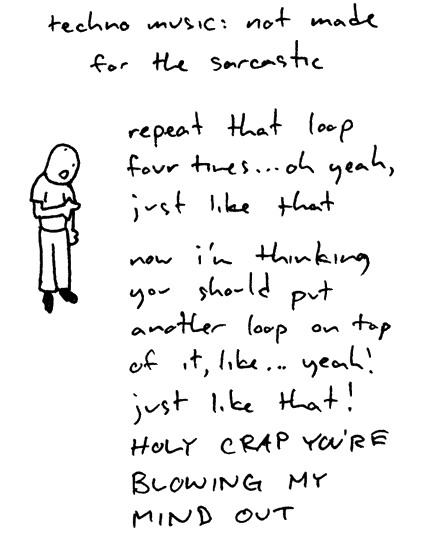 Is it me, or does it all sound the same?
Posted at 10:59:23 pm by
Permalink